Rennräder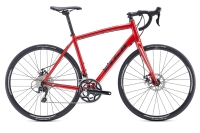 Art.Nr. 1263833752
Größe: 52CM
Farbe: Neon Red
nicht verfügbar
pro Stück (inkl. 19 % MwSt zzgl. Versandkosten)
1.079,50 EUR
statt 1.199,00 EUR (UVP) pro Stück Sie sparen 10%
Sportif 1.3
Rahmen: A2-SL compact double-butted alloy w/ hydroformed top tube & down tube, integrated 1 1/2´´ lower head tube & PIIS BB86 shell, double water bottle mounts
Hinterbau: A2-SL alloy tapered seatstays/chainstays w/ rack mount, forged-road disc dropout w/ 1 eyelet and replaceable derailleur hanger
Gabel: FC-770 Disc carbon blade, alloy crown w/ tapered alloy steerer & alloy dropout
Kurbel: Oval Concepts 520, 50/34T
Innenlager: Oval Concepts, BB86 press-fit
Umwerfer: Shimano 105
Schaltwerk: Shimano 105, 11-speed
Schalthebel: Shimano 105, STI, 11-speed
Kassette: Shimano 105, 11-32T, 11-speed
Kette: KMC X11, 11-speed
Laufradsatz: Vera Corsa DPD22, double wall, 28/32h, Formula disc hubs
Reifen: Vera Helios, 700x28c, Phalanx puncture resistant belt
Bremsen: TRP Spyre, 160mm Rotors
Bremshebel: Shimano 105, STI, 11-speed
Steuersatz: FSA, 1 1/8´´ upper - 1 1/2´´ lower, integrated
Lenker: Oval Concepts 310, butted 6061 alloy, 31.8mm
Vorbau: Oval Concepts 313, 6061 3D-forged alloy, 31.8mm, +/- 7°
Lenkergriff: Oval Concepts 300, padded suede
Sattel: Oval Concepts R300 w/ steel rails
Sattelstütze: Oval Concepts 300, 3D-forged 6061 alloy, 27.2mm, double-bolt micro-adjust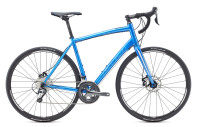 Art.Nr. 1271576149
Größe: 49
Farbe: BLUE / SILVER
nicht verfügbar
pro Stück (inkl. 19 % MwSt zzgl. Versandkosten)
989,90 EUR
statt 1.099,00 EUR (UVP) pro Stück Sie sparen 9.9%
Sportif 1.5
Rahmen: A2-SL alloy tapered seatstays & chainstays w/ rack mount, forged-road disc dropout w/ 1 eyelet & replaceable derailleur hanger
Gabel: FC-440 full-carbon monocoque, quick-release axle w/ flat-mount disc tabs, tapered steerer
Kurbel: Shimano Tiagra, 50/34T
Innenlager: Shimano BB-RS500, press fit BB86
Umwerfer: Shimano Tiagra, 34.9mm clamp
Schaltwerk: Shimano Tiagra, 10-speed
Schalthebel: Shimano Tiagra, STI, 10-speed
Kassette: Shimano HG500, 11-32T, 10-speed
Kette: KMC X10 w/ MissingLink, 10-speed
Laufradsatz: Vera Corsa DPD22, double wall, 28/32h, Formula disc hubs
Reifen: Vera Helios, 700 x 28c, Phalanx puncture-resistant belt
Bremsen: Tektro Lyra mechanical disc, 160mm rotors
Bremshebel: Shimano Tiagra STI, 10-speed
Steuersatz: FSA, 1 1/8´´ upper - 1 1/2´´ lower, integrated
Lenker: Oval Concepts 310 Ergo, 6061 alloy, 31.8mm clamp, 133mm drop, 4 degree sweep
Vorbau: Oval Concepts 313, 3D-forged 6061 stem body, +/-7 degree
Lenkergriff: Oval Concepts 300 bar tape, suede
Sattel: Oval Concepts 300, steel rail
Sattelstütze: Oval Concepts 300, 6061 alloy, 27.2mm diameter
Gewicht: 0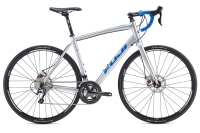 Art.Nr. 1263493849
Größe: 49CM
Farbe: Silver
nicht verfügbar
pro Stück (inkl. 19 % MwSt zzgl. Versandkosten)
989,90 EUR
statt 1.099,00 EUR (UVP) pro Stück Sie sparen 9.9%
Sportif 1.5
Rahmen: A2-SL compact double-butted alloy w/ hydroformed top tube & down tube, integrated 1 1/2´´ lower head tube & PIIS BB86 shell, double water bottle mounts
Hinterbau: A2-SL alloy tapered seatstays/chainstays w/ rack mount, forged-road dropout w/ 1 eyelet and replaceable derailleur hanger
Gabel: FC-770 Disc carbon blade, alloy crown w/ tapered alloy steerer & alloy dropout
Kurbel: Oval Concepts 520, 50/34T
Innenlager: Oval Concepts, BB86 press-fit
Umwerfer: Shimano Tiagra
Schaltwerk: Shimano Tiagra, 10-speed
Schalthebel: Shimano Tiagra, STI, 10-speed
Kassette: SunRace 11-32T 10-speed
Kette: KMC X10, 10-speed
Laufradsatz: Vera Corsa DPD22, double wall, 28/32h, Formula disc hubs
Reifen: Vera Helios, 700x28c, Phalanx puncture resistant belt
Bremsen: Tektro MD-C500, 160mm Rotors
Bremshebel: Shimano Tiagra, STI, 10-speed
Steuersatz: FSA, 1 1/8´´ upper - 1 1/2´´ lower, integrated
Lenker: Oval Concepts 310, butted 6061 alloy, 31.8mm
Vorbau: Oval Concepts 313, 6061 3D-forged alloy, 31.8mm, +/- 7°
Lenkergriff: Oval Concepts 300, padded suede
Sattel: Oval Concepts R300 w/ steel rails
Sattelstütze: Oval Concepts 300, 3D-forged 6061 alloy, 27.2mm, double-bolt micro-adjust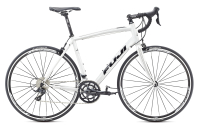 Art.Nr. 1171596349
Größe: 49
Farbe: SATIN WHITE / BLACK
nicht verfügbar
pro Stück (inkl. 19 % MwSt zzgl. Versandkosten)
809,90 EUR
statt 899,00 EUR (UVP) pro Stück Sie sparen 9.9%
Sportif 2.1
Rahmen: A2-SL alloy tapered seatstays & chainstays w/ rack mount, forged-road dropout w/ 1 eyelet & replaceable derailleur hanger
Gabel: FC-770 carbon integrated w/ 1 1/8´´ alloy steerer
Kurbel: Shimano FC-345, 50/34T
Innenlager: Shimano Octalink
Pedale: Aero Road w/ clips & straps
Umwerfer: Shimano Sora, 34.9mm clamp
Schaltwerk: Shimano Sora, 9-speed
Schalthebel: Shimano Sora, STI, 9-speed
Kassette: Shimano HG400 , 11-32T, 9-speed
Kette: KMC X9 w/ MissingLink, 9-speed
Laufradsatz: Vera Corsa DPM27, double wall, 24/28h, Formula road hubs
Reifen: Vera Helios, 700 x 25c, 60tpi
Bremsen: Alloy dual pivot, 47mm-57mm reach
Bremshebel: Shimano Sora STI, 9-speed
Steuersatz: FSA, 1 1/8´´ integrated
Lenker: Oval Concepts 310 Ergo, 6061 alloy, 31.8mm clamp, 133mm drop, 4 degree sweep
Vorbau: Oval Concepts 313, 3D-forged 6061 stem body, +/-7 degree
Lenkergriff: Oval Concepts 300 bar tape, suede
Sattel: Oval Concepts 300, steel rail
Sattelstütze: Oval Concepts 300, 6061 alloy, 27.2mm diameter
Gewicht: 10.35kg / 22.80lbs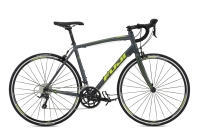 Art.Nr. 1163504052
Größe: 52CM
Farbe: Satin Dark Gray
nicht verfügbar
pro Stück (inkl. 19 % MwSt zzgl. Versandkosten)
791,90 EUR
statt 879,00 EUR (UVP) pro Stück Sie sparen 9.9%
Sportif 2.1
Rahmen: A2-SL compact double-butted alloy w/ hydroformed top tube & down tube, integrated head tube, double water bottle mounts
Hinterbau: A2-SL alloy tapered seatstays/chainstays w/ rack mount, forged-road dropout w/ 1 eyelet and replaceable derailleur hanger
Gabel: FC-770 carbon integrated w/ 1 1/8´´ alloy steerer
Kurbel: Shimano FC-345, 50/34T
Innenlager: Shimano Octalink
Pedale: Aero road w/ clips and straps
Umwerfer: Shimano Sora
Schaltwerk: Shimano Sora, 9-speed
Schalthebel: Shimano Sora, STI, 9-speed
Kassette: Shimano HG50 , 11-32T, 9-speed
Kette: KMC X9, 9-speed
Laufradsatz: Vera Corsa DPM27, double wall, 24/28h, Formula road hubs
Reifen: Vera Helios, 700 x 25c, 60tpi
Bremsen: Alloy dual pivot, 47mm-57mm reach
Bremshebel: Shimano Sora, STI, 9-speed
Steuersatz: FSA, 1 1/8´´ integrated
Lenker: Oval Concepts 301, butted 6061 alloy, 31.8mm
Vorbau: Oval Concepts 313, 6061 3D-forged alloy, 31.8mm, +/- 7°
Lenkergriff: Oval Concepts 300, padded suede
Sattel: Oval Concepts R300 w/ steel rails
Sattelstütze: Oval Concepts 300, 3D-forged 6061 alloy, 27.2mm, double-bolt micro-adjust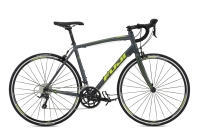 Art.Nr. 1163504054
Größe: 54CM
Farbe: Satin Dark Gray
nicht verfügbar
pro Stück (inkl. 19 % MwSt zzgl. Versandkosten)
791,90 EUR
statt 879,00 EUR (UVP) pro Stück Sie sparen 9.9%
nicht verfügbar
pro Stück (inkl. 19 % MwSt zzgl.
Versandkosten
)
791,90 EUR
statt
879,00 EUR
(
UVP
) pro Stück
Sie sparen 9.9%
Sportif 2.1
Rahmen: A2-SL compact double-butted alloy w/ hydroformed top tube & down tube, integrated head tube, double water bottle mounts
Hinterbau: A2-SL alloy tapered seatstays/chainstays w/ rack mount, forged-road dropout w/ 1 eyelet and replaceable derailleur hanger
Gabel: FC-770 carbon integrated w/ 1 1/8´´ alloy steerer
Kurbel: Shimano FC-345, 50/34T
Innenlager: Shimano Octalink
Pedale: Aero road w/ clips and straps
Umwerfer: Shimano Sora
Schaltwerk: Shimano Sora, 9-speed
Schalthebel: Shimano Sora, STI, 9-speed
Kassette: Shimano HG50 , 11-32T, 9-speed
Kette: KMC X9, 9-speed
Laufradsatz: Vera Corsa DPM27, double wall, 24/28h, Formula road hubs
Reifen: Vera Helios, 700 x 25c, 60tpi
Bremsen: Alloy dual pivot, 47mm-57mm reach
Bremshebel: Shimano Sora, STI, 9-speed
Steuersatz: FSA, 1 1/8´´ integrated
Lenker: Oval Concepts 301, butted 6061 alloy, 31.8mm
Vorbau: Oval Concepts 313, 6061 3D-forged alloy, 31.8mm, +/- 7°
Lenkergriff: Oval Concepts 300, padded suede
Sattel: Oval Concepts R300 w/ steel rails
Sattelstütze: Oval Concepts 300, 3D-forged 6061 alloy, 27.2mm, double-bolt micro-adjust

nicht verfügbar
pro Stück (inkl. 19 % MwSt zzgl.
Versandkosten
)
791,90 EUR
statt
879,00 EUR
(
UVP
) pro Stück
Sie sparen 9.9%
Sportif 2.1
Rahmen: A2-SL compact double-butted alloy w/ hydroformed top tube & down tube, integrated head tube, double water bottle mounts
Hinterbau: A2-SL alloy tapered seatstays/chainstays w/ rack mount, forged-road dropout w/ 1 eyelet and replaceable derailleur hanger
Gabel: FC-770 carbon integrated w/ 1 1/8´´ alloy steerer
Kurbel: Shimano FC-345, 50/34T
Innenlager: Shimano Octalink
Pedale: Aero road w/ clips and straps
Umwerfer: Shimano Sora
Schaltwerk: Shimano Sora, 9-speed
Schalthebel: Shimano Sora, STI, 9-speed
Kassette: Shimano HG50 , 11-32T, 9-speed
Kette: KMC X9, 9-speed
Laufradsatz: Vera Corsa DPM27, double wall, 24/28h, Formula road hubs
Reifen: Vera Helios, 700 x 25c, 60tpi
Bremsen: Alloy dual pivot, 47mm-57mm reach
Bremshebel: Shimano Sora, STI, 9-speed
Steuersatz: FSA, 1 1/8´´ integrated
Lenker: Oval Concepts 301, butted 6061 alloy, 31.8mm
Vorbau: Oval Concepts 313, 6061 3D-forged alloy, 31.8mm, +/- 7°
Lenkergriff: Oval Concepts 300, padded suede
Sattel: Oval Concepts R300 w/ steel rails
Sattelstütze: Oval Concepts 300, 3D-forged 6061 alloy, 27.2mm, double-bolt micro-adjust

Sportif 2.1
Rahmen: A2-SL compact double-butted alloy w/ hydroformed top tube & down tube, integrated head tube, double water bottle mounts
Hinterbau: A2-SL alloy tapered seatstays/chainstays w/ rack mount, forged-road dropout w/ 1 eyelet and replaceable derailleur hanger
Gabel: FC-770 carbon integrated w/ 1 1/8´´ alloy steerer
Kurbel: Shimano FC-345, 50/34T
Innenlager: Shimano Octalink
Pedale: Aero road w/ clips and straps
Umwerfer: Shimano Sora
Schaltwerk: Shimano Sora, 9-speed
Schalthebel: Shimano Sora, STI, 9-speed
Kassette: Shimano HG50 , 11-32T, 9-speed
Kette: KMC X9, 9-speed
Laufradsatz: Vera Corsa DPM27, double wall, 24/28h, Formula road hubs
Reifen: Vera Helios, 700 x 25c, 60tpi
Bremsen: Alloy dual pivot, 47mm-57mm reach
Bremshebel: Shimano Sora, STI, 9-speed
Steuersatz: FSA, 1 1/8´´ integrated
Lenker: Oval Concepts 301, butted 6061 alloy, 31.8mm
Vorbau: Oval Concepts 313, 6061 3D-forged alloy, 31.8mm, +/- 7°
Lenkergriff: Oval Concepts 300, padded suede
Sattel: Oval Concepts R300 w/ steel rails
Sattelstütze: Oval Concepts 300, 3D-forged 6061 alloy, 27.2mm, double-bolt micro-adjust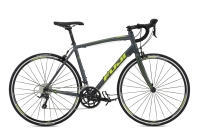 Art.Nr. 1163504049
Größe: 49CM
Farbe: Satin Dark Gray
nicht verfügbar
pro Stück (inkl. 19 % MwSt zzgl. Versandkosten)
791,90 EUR
statt 879,00 EUR (UVP) pro Stück Sie sparen 9.9%
Sportif 2.1
Rahmen: A2-SL compact double-butted alloy w/ hydroformed top tube & down tube, integrated head tube, double water bottle mounts
Hinterbau: A2-SL alloy tapered seatstays/chainstays w/ rack mount, forged-road dropout w/ 1 eyelet and replaceable derailleur hanger
Gabel: FC-770 carbon integrated w/ 1 1/8´´ alloy steerer
Kurbel: Shimano FC-345, 50/34T
Innenlager: Shimano Octalink
Pedale: Aero road w/ clips and straps
Umwerfer: Shimano Sora
Schaltwerk: Shimano Sora, 9-speed
Schalthebel: Shimano Sora, STI, 9-speed
Kassette: Shimano HG50 , 11-32T, 9-speed
Kette: KMC X9, 9-speed
Laufradsatz: Vera Corsa DPM27, double wall, 24/28h, Formula road hubs
Reifen: Vera Helios, 700 x 25c, 60tpi
Bremsen: Alloy dual pivot, 47mm-57mm reach
Bremshebel: Shimano Sora, STI, 9-speed
Steuersatz: FSA, 1 1/8´´ integrated
Lenker: Oval Concepts 301, butted 6061 alloy, 31.8mm
Vorbau: Oval Concepts 313, 6061 3D-forged alloy, 31.8mm, +/- 7°
Lenkergriff: Oval Concepts 300, padded suede
Sattel: Oval Concepts R300 w/ steel rails
Sattelstütze: Oval Concepts 300, 3D-forged 6061 alloy, 27.2mm, double-bolt micro-adjust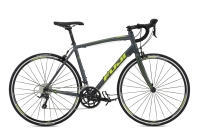 Art.Nr. 1163504061
Größe: 61CM
Farbe: Satin Dark Gray
nicht verfügbar
pro Stück (inkl. 19 % MwSt zzgl. Versandkosten)
791,90 EUR
statt 879,00 EUR (UVP) pro Stück Sie sparen 9.9%
Sportif 2.1
Rahmen: A2-SL compact double-butted alloy w/ hydroformed top tube & down tube, integrated head tube, double water bottle mounts
Hinterbau: A2-SL alloy tapered seatstays/chainstays w/ rack mount, forged-road dropout w/ 1 eyelet and replaceable derailleur hanger
Gabel: FC-770 carbon integrated w/ 1 1/8´´ alloy steerer
Kurbel: Shimano FC-345, 50/34T
Innenlager: Shimano Octalink
Pedale: Aero road w/ clips and straps
Umwerfer: Shimano Sora
Schaltwerk: Shimano Sora, 9-speed
Schalthebel: Shimano Sora, STI, 9-speed
Kassette: Shimano HG50 , 11-32T, 9-speed
Kette: KMC X9, 9-speed
Laufradsatz: Vera Corsa DPM27, double wall, 24/28h, Formula road hubs
Reifen: Vera Helios, 700 x 25c, 60tpi
Bremsen: Alloy dual pivot, 47mm-57mm reach
Bremshebel: Shimano Sora, STI, 9-speed
Steuersatz: FSA, 1 1/8´´ integrated
Lenker: Oval Concepts 301, butted 6061 alloy, 31.8mm
Vorbau: Oval Concepts 313, 6061 3D-forged alloy, 31.8mm, +/- 7°
Lenkergriff: Oval Concepts 300, padded suede
Sattel: Oval Concepts R300 w/ steel rails
Sattelstütze: Oval Concepts 300, 3D-forged 6061 alloy, 27.2mm, double-bolt micro-adjust

Art.Nr. 1171606535
Größe: 35
Farbe: SATIN BLACK / WHITE
nicht verfügbar
pro Stück (inkl. 19 % MwSt zzgl. Versandkosten)
629,90 EUR
statt 699,00 EUR (UVP) pro Stück Sie sparen 9.9%
Sportif 2.3
Rahmen: A2-SL alloy tapered seatstays & chainstays w/ rack mount, forged-road dropout w/ 1 eyelet & replaceable derailleur hanger
Gabel: FC-770 carbon integrated w/ 1 1/8´´ alloy steerer
Kurbel: Fuji forged alloy, 50/34T
Innenlager: FSA, sealed cartridge bearing
Pedale: Aero Road w/ clips & straps
Umwerfer: Shimano Claris, 34.9mm clamp
Schaltwerk: Shimano Claris, 8-speed
Schalthebel: Shimano Claris, STI, 8-speed
Kassette: Shimano HG31, 11-32T, 9-speed
Kette: KMC HV700, 8-speed
Laufradsatz: Vera Corsa DPM27, double wall, 24/28h, Formula road hubs
Reifen: Vera Helios, 700 x 25c, 60tpi (XXS Vera Invictus 650 x 23c, 30tpi)
Bremsen: Alloy dual pivot, 47mm-57mm reach
Bremshebel: Shimano Claris, STI
Steuersatz: FSA, 1 1/8´´ integrated
Lenker: Oval Concepts 310 Ergo, 6061 alloy, 31.8mm clamp, 133mm drop, 4 degree sweep
Vorbau: Oval Concepts 313, 3D-forged 6061 stem body, +/-7 degree
Lenkergriff: Oval Concepts 300 bar tape, suede
Sattel: Oval Concepts 300, steel rail
Sattelstütze: Oval Concepts 300, 6061 alloy, 27.2mm diameter
Gewicht: 10.24 kg/ 22.58 lbs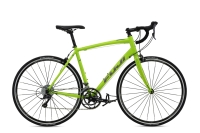 Art.Nr. 1163514156
Größe: 56CM
Farbe: Citrus
nicht verfügbar
pro Stück (inkl. 19 % MwSt zzgl. Versandkosten)
701,90 EUR
statt 779,00 EUR (UVP) pro Stück Sie sparen 9.9%
Sportif 2.3
Rahmen: A2-SL compact double-butted alloy w/ hydroformed top tube & down tube, integrated head tube, double water bottle mounts
Hinterbau: A2-SL alloy tapered seatstays/chainstays w/ rack mount, forged-road dropout w/ 1 eyelet and replaceable derailleur hanger
Gabel: FC-770 carbon integrated w/ 1 1/8´´ alloy steerer
Kurbel: Fuji forged alloy, 50/34T
Innenlager: FSA, sealed cartridge bearing
Pedale: Aero road w/ clips and straps
Umwerfer: Shimano Claris
Schaltwerk: Shimano Sora, 8/9-speed
Schalthebel: Shimano Claris, STI, 8-speed
Kassette: SRAM PG-830, 11-32T, 8-speed
Kette: KMC HV700, 8-speed
Laufradsatz: Vera Corsa DPM27, double wall, 24/28h, Formula road hubs
Reifen: Vera Helios, 700 x 25c, 60tpi (XXS Vera Invictus 650c x 23, 30tpi)
Bremsen: Alloy dual pivot, 47mm-57mm reach
Bremshebel: Shimano Claris, STI, 8-speed
Steuersatz: FSA, 1 1/8´´ integrated
Lenker: Oval Concepts 301, butted 6061 alloy, 31.8mm
Vorbau: Oval Concepts 313, 6061 3D-forged alloy, 31.8mm, +/- 7°
Lenkergriff: Oval Concepts 300, padded suede
Sattel: Oval Concepts R300 w/ steel rails
Sattelstütze: Oval Concepts 300, 3D-forged 6061 alloy, 27.2mm, double-bolt micro-adjust